It is a testament to his great legacy that we all still know the sound of, and the iconic image that is Jamaican-born Nesta Robert "Bob" Marley, once described as "the Third World's first pop superstar", the greatest reggae musician of all time who was born 69 years ago today.
A "superstar" yes, but of "pop", surely not, for Bob Marley's music and lyrics still have a unique freshness and vibrancy that make them stand out from the many artists who have attempted to follow in his footsteps and they convey an attitude, a spirituality and messages of freedom, hope and often of outright defiance against poverty, oppression and social injustice for which the label "pop" simply will not do.
AFRICAN-JAMAICAN MUSIC FUSION
It was in the early 1960's that reggae grew out of a fusion of traditional African music and the Jamaican folk music styles of ska' and mento combined with R&B. The result was a distinctive rhythmic "chopping" style of the rhythm guitar and bass drum over which the vocals, lead guitar and other instruments could improvise melody and supporting sounds which became known as reggae.
"ME COME FROM BLACK AND WHITE"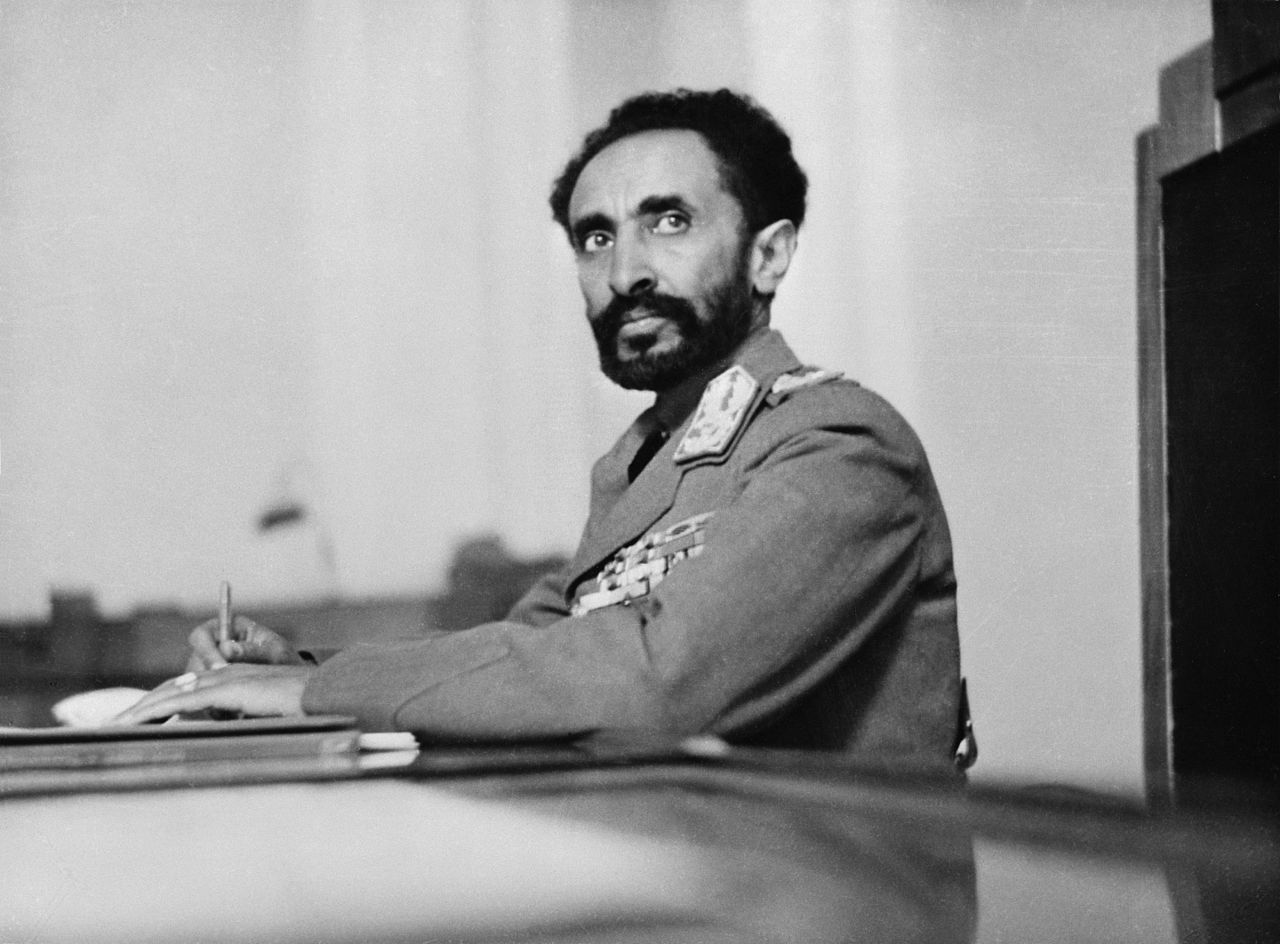 Haille Selassie – The rastafarian god
Bob Marley was born in St. Ann district of the West Indies island of Jamaica in 1945 to a white father and a black mother. He grew up facing prejudice but his own character remained untainted by it. He once said, "I don't have prejudice meself. My father was a white and my mother was black. Them call me half-caste or whatever. Me don't dip on nobody's side. Me don't dip on the black man's side nor the white man's side. Me dip on God's side, the one who create me and cause me to come from black and white."
That said, Marley identified himself as a black African, a Pan-Africanist and a believer in the Rastafarian religion that viewed Ethiopia's emperor Haile Selassie as 'Jah' (God).
Leaving school at the age of 14 to be a musician, Bob Marley teamed up with Neville "Bunny" Livingstone who became known as "Bunny Wailer" leading to the formation some years later of the band "Bob Marley and the Wailers".
These were not easy years for the young Marley. By now he had moved from the relative comfort of St. Ann district to the squatter settlement of Trench Town where he would have his eyes opened to poverty, corruption and poor housing.
FIRST SINGLE RELEASES
He released his first two singles in 1962, "Judge Not" and "One Cup of Coffee" which if they were hits at all were only so in Jamaica but by a year later Marley had got together with Bunny Wailer and Peter Tosh to the form the band that, after a few line-up and name changes, became "The Wailers".
It wasn't until 1973 that The Wailers started to gain widespread recognition. Their Catch a Fire album was well received but only sold 14,000 copies. However, Burnin', released the same year, included the tracks "Get Up, Stand Up" and "I Shot the Sheriff". The latter was picked up by the legendary rock guitarist Eric Clapton who covered it in 1974 to achieve a huge hit in America.
STUNNING ALBUMS
The original line up of The Wailers broke up in 1974 but a year later Bob Marley achieved international fame with the release of the track "No Woman, No Cry" from the Natty Dread album and in 1976 the album Rastaman Vibration which stayed in Billboard's Hot 100 for four weeks.
Bob Marley's next album Exodus did better still. By now the name Bob Marley had long since been exported from his Jamaica home, as had Marley, moving to England at the end of 1976. Exodus spent 56 weeks in the UK album charts and included four hit singles: "Exodus", "Waiting in Vain", "Jamming" and "One Love". (In 1999 Time magazine declared Exodus the greatest album of the 20th century.)
Babylon by Bus released in 1978 brought the energy and intensity of Marley's live performances, especially the final track of the double album, "Jamming", to millions who had not had the chance to see him perform in the flesh.
Survival (1979) was perhaps Marley's most political album reflecting his support for the struggles of Africans with tracks with titles such as "Zimbabwe", "Africa Unite", "Wake Up and Live" and "Survival". And if Survival was Marley most political collection, Uprising released in the following year was the most religious, including the tracks "Redemption Song" and "Forever Loving Jah".
AFTERLIFE
Bob Marley had been diagnosed with cancer in mid 1977. He continued touring and recording but died on May 11, 1981.
The albums Confrontation (1983) and Legend (1984) were released after Marley's death using unreleased recordings and new mixes of singles including "Buffalo Soldier" and "Iron Lion Zion". Legend went on to sell 25 million copies making it the best selling reggae album of all time.
NEVER BETTERED
Bob Marley has been copied by many and he influenced African reggae stars such as Alpha Blundy (Cote d'Ivoire), Lucky Dube (South Africa), Tiken Jah Fakoly (Senegal) and Rocky Dawuni (Ghana): copied and influenced but not bettered.
His music cuts across nationality, colour, gender and age and it continues to be played every day on both 'easy listening' and 'progressive' radio stations. Listen to "No Woman, No Cry" and try not to join in the chorus or ponder "the government in Trench Town", to Exodus and not feel the "movement of the people", to the live performance of "Jamming" and try keep you feet still, or to "Three Little Birds" and not be happy.
In the 30 years since Bob Marley's death his name, his look and his sound has been commercialised and sold around the world. Like others before him (think of Jimi Hendrix or Jim Morrison for example) the cutting edge of Marley's messages and music has been blunted for some but not it would seem for millions of fans around the world.